Sometimes there are devices that are absolutely the best in their class. The R86S is the best in its class, albeit we are not entirely sure what that class is. In our review, we are going to take a look at how this small and low-power 2.5GbE/ 10GbE box is constructed, then hopefully start to delve into our best sense of its ultimate purpose. This little box exudes coolness.
The R86S Hardware Overview
For this one, we have a video that you can find here:
We get to show off a bit more of the system and let you hear the fan noise. Yes, this unit has fans despite its diminutive size. As always, we suggest opening the video in its own window, tab, or app for the best viewing experience. This may look like a Raspberry Pi-sized chassis, but it houses a surprisingly complex system.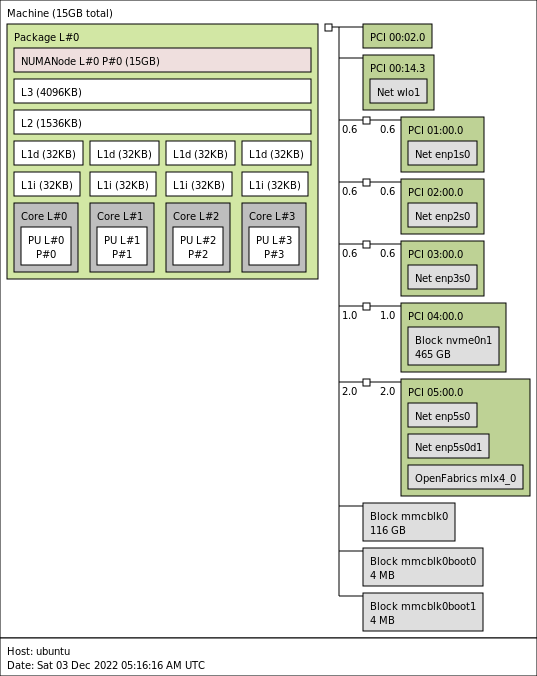 This review took trying OpenWRT, pfSense, OPNsense, Ubuntu, Proxmox VE, Windows, and even VMware ESXi 8.0 so it was a relatively massive effort. Before we get to that, let us get to the hardware, starting with the outside of the chassis.
R86S Mini PC External Hardware Overview
This, is the R86S. To be more precise, this is the high-end "G3" version. It measures (minus the WiFi antennas) at 119mm x 79mm x 41mm. This is bigger than the average Raspberry Pi case, but not by that much.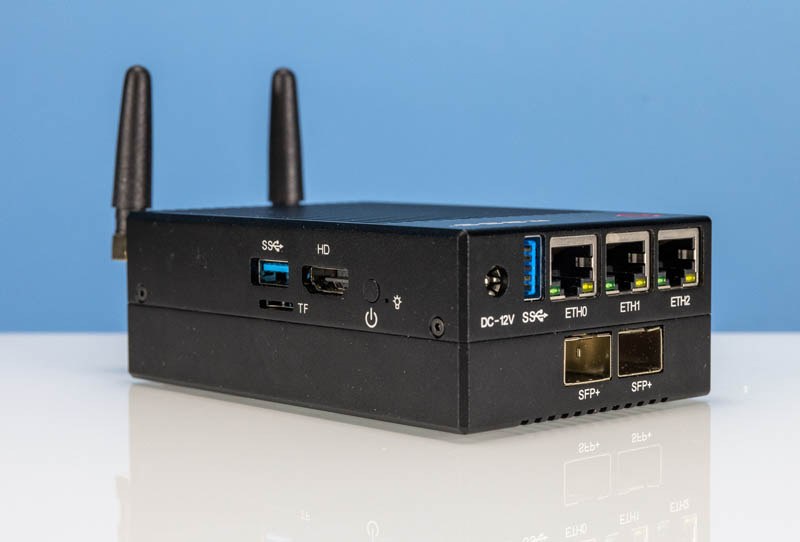 The real show here is the network port side. On top, there is a 12V DC input, a USB 3 Type-A port, and then lots of networking. The three RJ45 ports are 2.5GbE ports powered by Intel i225 NICs.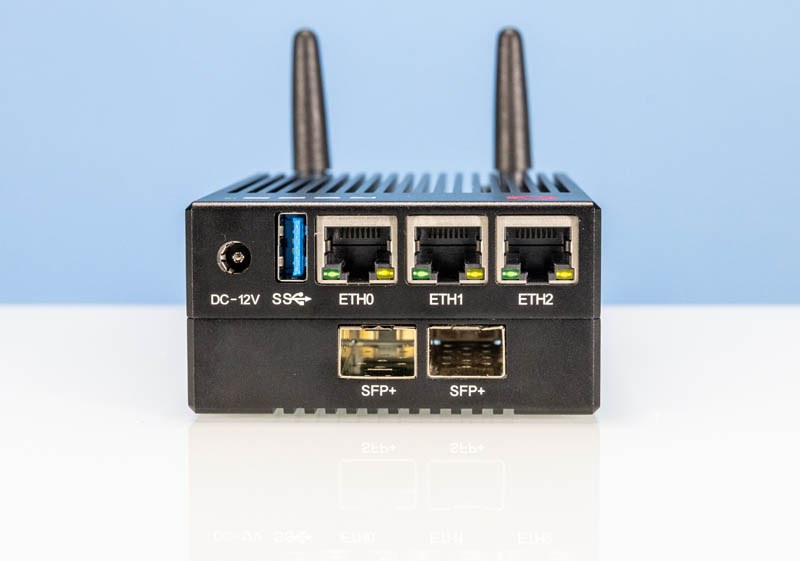 Below, there is one of the biggest options that drive price, power consumption, and capability. That is 10GbE SFP+ ports. We are going to get inside the system later and show you how those NICs are connected. It is fascinating.
On the rear of the unit, we get the two WiFi antenna ports.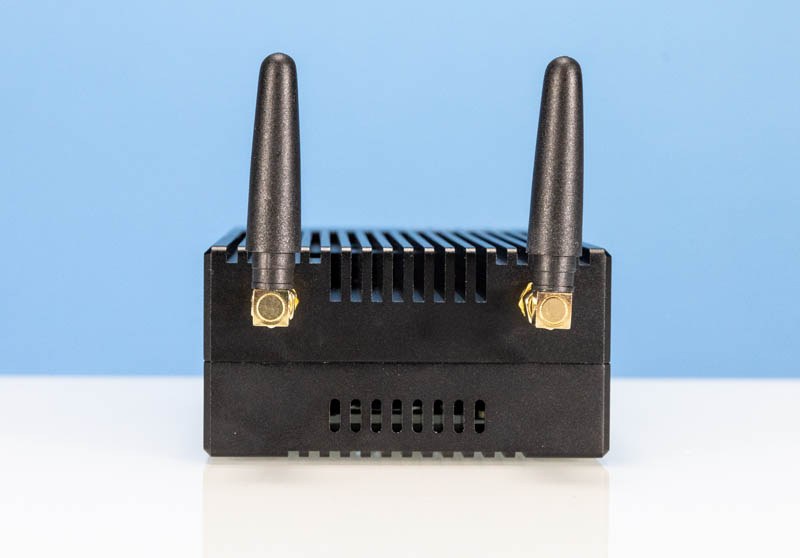 Noting the top and the bottom of the unit, one may see fins, but this is not a fanless system. There are actually two fans. One uses the vent at the bottom of the above photo. The other one can see looking at the top of the unit.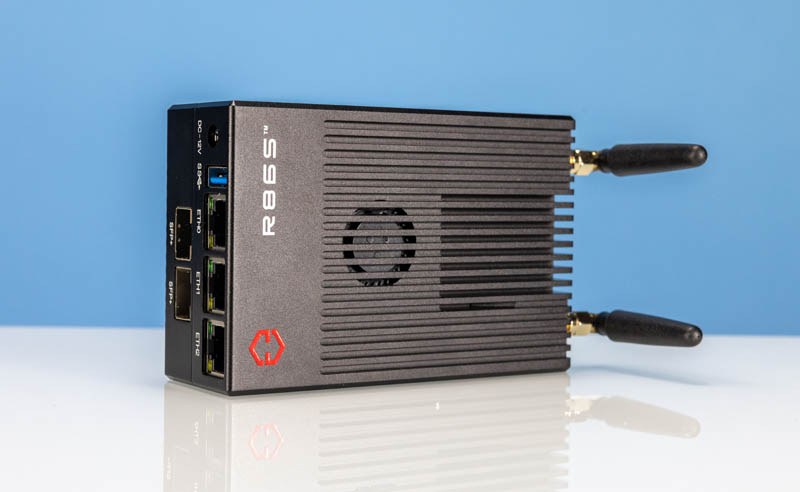 On the bottom of the unit, we have rubber feet. We also have a panel that can be removed to get inside the system.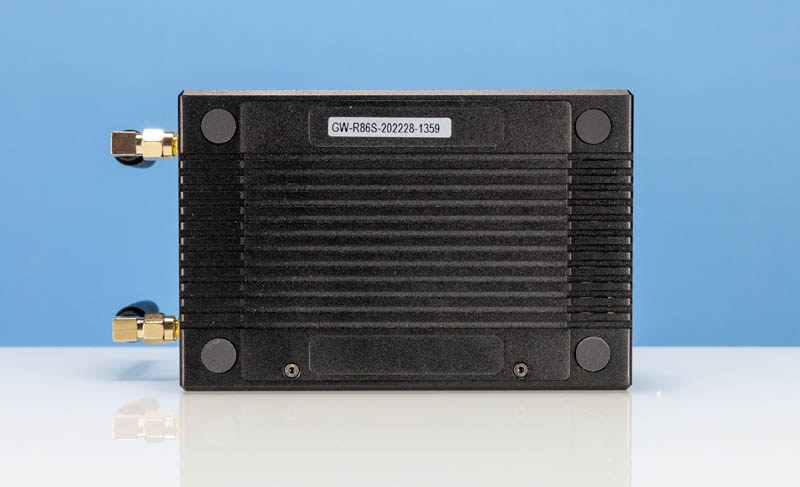 R86S Mini PC Internal Hardware Overview
Opening that bottom panel, we can see a lot of the unique features. First, there is a M.2 slot. We added a WD Blue SN570 to make it pop a bit more and show a configuration we expect many of these to be used in.
Here is the unit flipped and without the M.2 SSD. One can see a small fan. This fan is cooling the 10GbE NIC.
If that NIC looks like it is a familiar form factor, it should. This is built around an OCP NIC 2.0 card. Our unit has a NVIDIA-Mellanox ConnectX-3 dual 10GbE OCP NIC 2.0 card. One can see that the chassis is just large enough to fit the OCP NIC.
The riser with the OCP NIC 2.0 slot and the M.2 slot is connected via two ribbon cables. These cables connect to the motherboard. On this side, we can see a group of three Intel i225-V SLNMH (B3) NICs.
Pulling the top off, we can note that the motherboard is very integrated. This is not the platform if you want to swap components on. Our system has 16GB of memory in a dual channel DDR4-2933 configuration. There is also an 8GB option. There is a CNVi Intel AX201 WiFi 6 and Bluetooth NIC. There is even 128GB of onboard eMMC storage.
Looking at the chassis, we can see a copper block cooling the CPU. This is the active cooler for the unit. This solution is using the quad-core Intel Pentium Silver N6005. Overall, this active cooling has worked very well with 39C idle temperatures. That is lower than some of the fanless units we have reviewed. We should note that, again, we have the higher-end unit but there is a N5105 version available as well.
Here are the unit's three main parts with the motherboard in the middle.
Next, let us get to performance before talking OSes.
GoWin R86S Performance
Instead of going through the entire Linux-Bench test suite, we are going to show a few performance and power numbers here to give a general sense of performance. This also gives us the opportunity to test with Linux/ Ubuntu instead of just Windows.
Python Linux 4.4.2 Kernel Compile Benchmark
This is one of the most requested benchmarks for STH over the past few years. The task was simple, we have a standard configuration file, the Linux 4.4.2 kernel from kernel.org, and make the standard auto-generated configuration utilizing every thread in the system. We are expressing results in terms of compiles per hour to make the results easier to read:
The Intel N6005 in this unit performed well. We are showing comparison data to our previous tests, but this is certainly one of the stronger N6005 platforms we have seen.
7-zip Compression Performance
7-zip is a widely used compression/ decompression program that works cross-platform. We started using the program during our early days with Windows testing. It is now part of Linux-Bench.
The overall performance is still not what we see from higher power parts, but one gets efficiency as the trade-off.
OpenSSL Performance
OpenSSL is widely used to secure communications between servers. This is an important protocol in many server stacks. We first look at our sign tests:
Here are the verify results:
The CPU is an important aspect in this machine. In lower-end boxes, the N5105 is our recommendation. In this one, the N6005 feels like a better fit. Having a bit more performance along with the 10GbE NICS is important.
OpenWRT, pfSense, OPNsense iperf3 Quick Test
The R86s came with OpenWRT installed on the 128GB eMMC. We just ran a quick iperf3 test using that platform as installed. As we would expect, we saw around line rate. This was a big question we had given the limited PCIe lanes on the N6005 SoC.
We installed pfSense 2.6, and saw similar results.
At this point, we had a sense of the outcome, but we saw a similar performance from OPNsense 22.7.
If you just want to run a simple NAT setup, perhaps using a few firewall rules, then the N6005 is fine. If you want something faster for IDS or another heavy application, you may want a higher-end CPU to pair with 10GbE links.
As a quick note, we tried running the 10GbE SFP+ ports at 2.5GbE and 5GbE speeds, but the ConnectX-3 could not handle those speeds. Assume it is 1GbE or 10GbE.
Next, let us get to the OS testing.
GoWin R86S OS Testing
On the subject of OS testing, we tested OpenWRT, pfSense, OPNsense, Ubuntu, Proxmox VE, Windows, and even VMware ESXi 8.0. A big part was we just wanted to see what would work.
Proxmox VE was probably our top choice for this box. The N6005 is fast enough for a basic NAT/ firewall setup using two 2.5GbE NICs. One can then use the 10GbE NICs to access other storage and have a final 2.5GbE NIC for management.
One challenge we had was that Proxmox VE would see the eMMC after it was installed, but it would not install on the eMMC. Windows also did not like the eMMC installation.
As one would expect, and perhaps the biggest bummer was VMware ESXi 8.0.
VMware felt promising. Putting ESXi on the eMMC storage seemed awesome so that we could have the hypervisor on the eMMC, then use M.2 for a local storage device. That was a good idea, but it did not work. We had to use the M.2 SSD for the hypervisor.
There was another catch with VMware ESXi 8.0. While VMware now supports the Intel i225 out-of-the-box, it no longer supports the NVIDIA Mellanox ConnectX-3. Given how much power the ConnectX-3 uses and the capability it provides, it is a shame that VMware dropped support for ConnectX-3. We understand that VMware is pushing new hardware and so it sunset the popular ConnectX-3 support, but the downside is that VMware's poor HCL strikes again.
Next, let us look at power consumption before moving on to our final words.
GoWin R86S Power Consumption
In terms of power consumption, this unit uses 10-11W at idle without ports plugged in.
Depending on the ports, cables, and SFP+ modules used, we were able to get this unit up into the 25-30W range. Power consumption is not immense, but half or so of the power can be used by the ConnectX-3 NIC and pluggables.
The included power adapter does not have US regulatory markings. If you want a FCC database device, this is not it. That is too bad since it will limit the use in some applications.
In terms of noise, this system is audible, but given it is targeting ~30W max of cooling capacity with a metal chassis and two small fans the noise is actually not bad. What is more, the pitch of the fans was not overly annoying. In the accompanying video, you can hear the unit.
Let us next get to our key lessons learned.
Key Lessons Learned
If you saw the accompanying video, you may have insight into my tension with this unit. It is absolutely awesome in terms of capabilities, but there is a catch. The unit may be an awesome firewall unit, but that feels like it will underutilize the hardware for many applications. That is why we started testing so many OSes. The limitation of the eMMC installations means that our storage is necessarily limited. Once we realized the model of being able to use 10GbE NICs for storage, that started to make more sense, just not for VMware given the company's archaic hardware compatibility model.
Proxmox VE or a Ubuntu or similar Linux host is probably the best option. This could also make a great little K8s, K3s, or docker host. If only this had SODIMMs that we could upgrade.
As a firewall/ router device, this is also great. Still, having 16GB feels like we will strand RAM. It feels like this should be a virtualized firewall device.
As a Windows machine, it needs another USB port or two.
This was very strange one. If the unit had SODIMMs, an extra USB port or two, and so forth, it would fill so many more roles. Still, this is one of those awesome boxes that can do so many things.
Final Words
Let me be clear here. This is not a perfect box. There is a bit of fan noise, although it is not bad (you can hear in the video.) The memory is fixed. ConnectX-3 uses a lot of power, albeit with 10GbE capabilities. Still, having one of these boxes my thought was constantly that it was cool. Every time I used it, I thought it was cool and wanted to add another node or two.
For the firewall folks, perhaps the biggest drawback is the fans. There are two small fans, and this is not a passively cooled box. It also uses a lot of power if you do not need the 10GbE capabilities. This is also running near the limit of what an Intel N6005 platform provides.
Ultimately, this is an awesome little box. In a footprint only slightly larger than a Raspberry Pi 4B, one gets so much more. Twice the RAM, 27.5Gbps of wired networking plus WiFi, onboard eMMC with M.2 expansion. A diminutive form factor should not lead you to underestimate the power of this machine.
Through our 2.5GbE firewall review series, we keep getting questions around "what about 10GbE?" The R86S is the answer. This is going to be a revolution for the home lab community. One thing is clear, you can put me in the "¡Viva la revolución de R86S!" camp.